Here were the answers from the contest q... I had fun looking back through my archives to see which posts y'all liked :) Thanks guys!
Kristen =)
said...
My Process
&
Post 333
: Button Counting Contest (Because I won)
Inka said...

This one is a hard one, because I love to read everything on your blog. :)

But if I need to choose one, it will be the September 23rd "This weekend". I loved what you made with that little lucky girl.

Bekka

said...

I think my favorite post was from last month with your wedding photos. I love looking at other people's wedding photos!

We sure like you, too! :D
Kendra
said... That was the first time I've read through all of your blog posts..lol. Wow! I had a lot that I loved because of the photographs and such but:
Sept. 12, 2006
and
July 22, 2007
because I love that you opened yourself up in those to show parts of you that don't just come up in every post...and also because it let me see similarities with you :)
Sarah said... I found your blog via Etsy and fell in love with the pictures. I haven't gone back and read everything, but the posts about your grandfather were very touching. I'm sorry for your loss...you've been in my thoughts. I love the Oct. 3 pics of yout grandparents together.
angela said... Hi!!! my fave post is that one, about the questions that Inka sent to you, I love to know the answers too,LOL! kisses!!
Diane Lovell said... My absolutely favourite blog entry was when your hubby hijacked the show on Thursday, September 13, 2007. Awesome!! Made me and my hubby laugh aloud! :)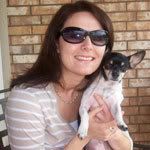 Funky Finds said... well, all your posts are wonderful. especially the convos with tyson! but i think my fav is the interview you filled out for me. this is when we first started getting to know you. so glad we met!
Bravesgyrl said... 11/19/06 is my favorite post - those little bids and the innocent nest are so beautiful and I LOVE that those are 'freckled' eggs in the nest! Happy sewing (PS - do you still make those ornaments from 11/25/06? I'd like to order some... but i know you are SUPER busy)... My Answer: Yes Julie :) I will have them available in about a month. Thanks for asking :)
Tamara said... I love the posts on your family cabin - the trips and the progress. We used to have a family cabin, and I miss it...it was more home to me than any of the houses we lived in! I love the post where you're standing by the lake with your arms in the air, and you said you're finally happy with you. Love that. Loved your wedding posts and your sweet grandpa posts. Do I have to choose just one??
Chik Austin said... My favorites are always your pictures. And I really appreciate the blog how-to's I just found! Thanks!
Momma said... Hi Leigh-Ann, my favourite blog entries that you have done are 1& 2. Pocket full and Just -it showed so much raw emotion from you and the writing you did is nothing I've ever seen from you before. It was the precious time that we had with Grandpa that we'll never forget. 3. Your Wedding-a very happy, magical day and we gained a wonderful son-in-law. 4.Your Journal circa 1993- funny and precious memories. 5. And lastly the one from last fall at the cabin titled at the cabin (Sept. 06) with the funny picture of Gran, you and me and we are laughing so hard when the picture was taken, ONLY WE KNOW WHAT WE WERE LAUGHING AT RIGHT LA. Well I'm crossing my fingers hoping that I win. Sorry I don't have a blog to advertise for you LA. You know where I live LA, my email is slmclaughlin@shaw.ca Love Momma
Kristi
said... I liked your post
announcing your freckled nest team
, because that is when I found your blog, and all the other cool ladies on your team! happy thanksgiving, and stitching!
Me...
I think
this is

my

favorite post
... I started believing in myself that day. (I talk about it more in my Book I'm writing,
Pretty on the Outside
)
This one's
up there too :) Lots of fun memories :) ...and
this
:)
Now for the Winner of the 20,000 Leagues Contest!!!
Congratulations....*drumrolllll*........
KENDRA IS THE WINNER!!!!
Kendra, Please
email me
your mailing address and I'll send it off this weekend :) Congratulations
Kendra
!!!!
Btw, New to the Freckled Nest Team...

Kody "the Transporter"

. Thanks KodeRed!