Usually by halloween, Winnipeg is covered in snow but by some perfect miracle, it's not yet and I can still safely drive
my station wagon
before it's parked for the winter! Keith and I went
couples thrifting
on Saturday
with
Kyla and Jesse
and spent a good 2 hours weaving through
6 warehouse-floors
PACKED with vintage furniture... it was literally excitement overload for me and I wanted to buy sooo many things. I settled on tons of photos instead and will go back tomorrow to purchase 2 pieces.
It was kinda like a 6 floor episode of Hoarders... the owner priced things too high which means stock doesn't move easily and it breaks my heart. I really couldn't get the h-u-g-e quantity of amazing furniture and overpricing off my mind; I wanna see these pieces used & enjoyed and I feel sad and frustrated. Sorry, rant ends here.
THIS was my dreeeam room! The Formica and Kitchen Chairs room gave me a joy that I can only compare to what being proposed to would feel like or paying off your mortgage, or finding out your pregnant, or winning a lottery, or finding a fountain of youth. Pretty much my maximum level of excitement was experienced--- it was a delicious room & I can't wait to bring my sister there, she'll freak out with me!!
These bow handles were so cute, I've never seen something like that before.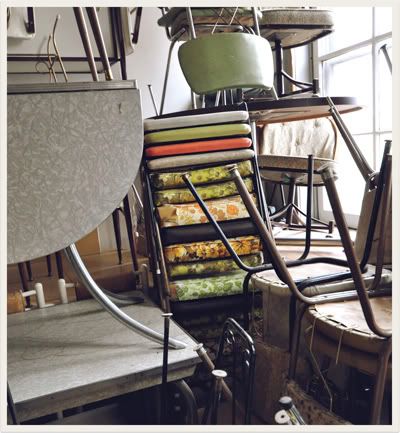 I loved this stack of floral, padded stacking stools in the formica room. The stock in that room would be amazing for photoshoots... it was incredible!
A view out the 5th floor window to the Burton Cummings Theatre where I've seen
Tegan and Sara
in concert in 2007 and 2010 :) Good memories!