Dog:
Lily the French Bulldog
I'm momma to a smelly french bulldog named Lily. Her absolute best trait is her friendliness! She has no problems going up to strangers (human, cat or dog) and inviting them to play or pet her. She seems to love everybody!
1. When she's happy or excited her ears go back.
2. She smells like dried oysters 24/7.
3. She prefers sleeping in a plastic basin instead of bed.
4. She also goes by Smelly, Smelly Cakes and Lily Buns.
5. When I get ready in the morning (teeth/makeup/hair) or get ready for bed at night, she will always lie ontop of my feet.
6. When she wants me to throw something that's currently in her mouth she'll 'give me five' and take off running... kind of like she's pressing a release button!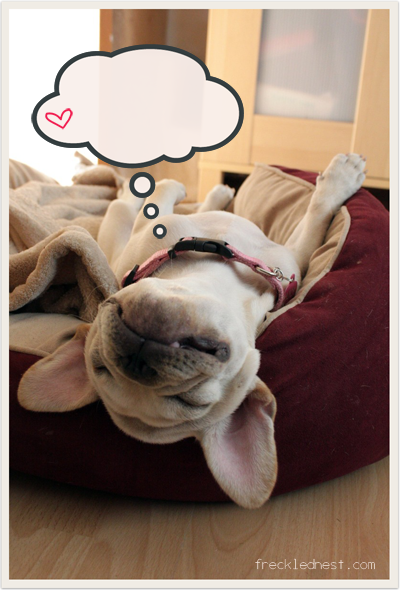 Share your Lily Quote (
what you'd write in her thought bubble) here in the comments.
To download Lily's bubble photo, click the photo for a larger version, then right-click and select "save image as". Print and add text manually or via photoshop.
Thanks so much Izabelle, Lily is such a dream dog!!
xoxo, LA