Friday evening I was heading to the mall when I spotted this beautiful car. My dream car was driving right beside me and I was da-rooling. As I turned left, he turned right and that's when I squealed-- a for sale sign in the window! I stalked it like prey, where was it turning, I needed to hunt it down! To my delight, it quickly turned into the McDonalds parking lot and that's when i made my move! U-E!!! I raced my little red car to meet it's future big brother and met Mel, the owner.
He was the sweetest man, wore a jacket that matched his car and we talked and talked. I asked a million questions with a grin ear to ear. It's very unlike me to show my cards because i'm a wheeler and a dealer, but I couldn't help it... i wanted to buy this wagon so bad!
The interior and 3 rows of seats sold me! I took down Mel's number and drove to Keith's work (btw, we're back together, YAAAY) to tell him that I wanted to (was going to) buy this car! Keith took
this pic
of me while I babbled on and on about how great it was. Being a car guy, Keith said he would take a look under the hood for me, so we set up a test drive that evening!
We drove the car and it was the sweetest ride I've ever been in! The car is a 74 Oldsmobile Custom Cruiser (similar to That 70s show Vista Crusier) and has only has 60,000 original miles, original paint, amazing condition and no restoration. It's minty! PLUS-- a beautiful inside-of-a-banana-yellow paint with woodgrain and plaid interiors. Hai-yai-yai! Oh- and an 8-track and roll down back window (and a Rocket 455 motor, but I'm more about the color scheme)!
I went home and slept on it, woke up, and knew it was right for me :) I went to the bank and...
(lol, click on the above pic for my full, sincere expression)
Drove to my sisters house and took 8 people for a ride, then folded down the seats and headed off to pick up furniture across the city :) I'm storing the wagon through the winter to keep it in great condition, then this spring/summer/fall, we're taking Manitoba by storm!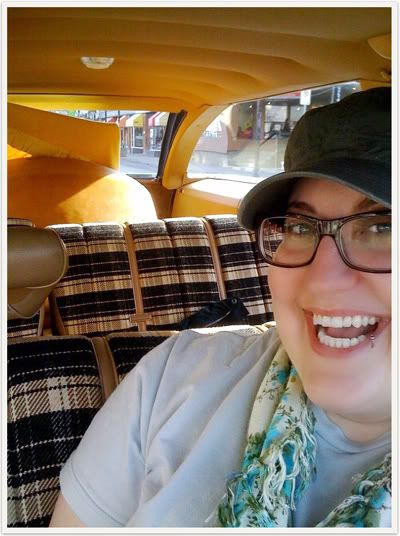 Oh, and you might wonder what I named him? Well, my best friend Jill has a
'76 Boler Trailer named Eggie
... so my wagon is appropriately named,
Bacon
:) Totally doing a "Bacon and Eggie" photoshoot next summer with vintage suitcases on the roofracks :
)