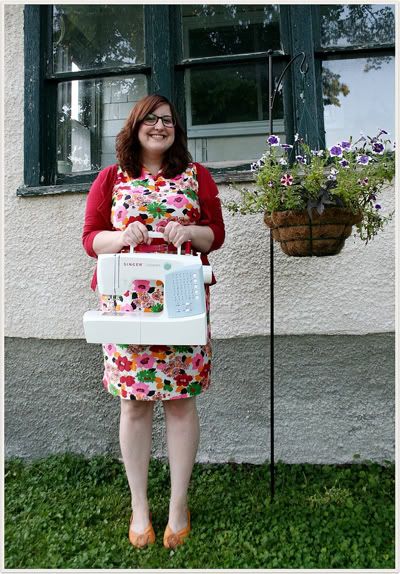 1. How did you learn to sew?
In middle school, I took Home Ec with Mrs. Starkell for a few months and learned the basics (how to: thread a machine, not sew your finger, a few projects & how to make boxer shorts you'll wear out
as shorts
-- because it's the 90's) :] I'd always admired my mom's sewing skills and was thrilled to be in a sewing class. Once I took Home Ec, it was like I had my license and Momma let me use her machine. I practiced and practiced, played with different types of fabric, taught myself to slip cover couches, made pajamas and I designed some fun accessories :)
Once I had my own house, I was on a tight budget and needed to make curtains. I borrowed my friends Pfaff machine (which was in a sweet hot pink luggage case) and sewed curtains for all 9 windows in my new home :) I was hooked again! I love the unlimited potential of fabric + sewing machine!
2. Why do you love to sew?
I have a few reasons...
1.
I love working with fabrics! Mixing color and pattern is one of my biggest joys in life and textiles are one of the best mediums for doing that!
2.
I love figuring stuff out :) When I made the 'Hanging Shoe Organizer' for Home Ec... I didn't know how to make the dimensional pockets yet but I knew it was possible. I tried a few ways and when I got it right, I squealed! I felt so excited to learn something new and use it in my home (plus teach you soon) :]
3.
It's a hobby & skill that can translate into any purpose; it's relevant and really applicable... decor, wardrobe & fashion, repair, accessories, children & toys, art and of course, it's fun!
4.
I find it so relaxing... you can see your idea/project produced so much faster (with the machine) than any other craft but it's still hands on and totally fulfilling :)
5.
I love making a finished product that
looks bought
but totally custom to my style :)
3. Favorite thing you've ever made?
Many Monday's, my mom takes Olivia and Kennedy to the library-- it's their special thing and all three of them love it equally! In November, I made O & K "Library Bags" for their birthday (with a tiny pocket inside for their library cards) and the girls quickly filled them with books :) At Christmas, I made my Mom one... and it sent her to giggles & tears, she could now
match
her grand daughters on their dates!
I love how committed they are to the library bag trio, Mom makes sure of it ;)
4. What is your favorite technique?
I'm pretty addicted to joining fabrics to create stripes. I wanna do it to
everything
!
5. What part of Home Ec are you most excited about?
I'm most excited for the girls and women* in Home Ec to feel empowered & thrilled as they discover the seamstress hidden inside of them! Our online class environment is a great place to learn from the beginning and be surrounded & supported by others around the same stage and by teachers who care about you enjoying the process! Rachel, Courtney and I put a lot of thought into the skills and projects being useful, progressive and extensive... once you complete Home Ec, your sewing machine will never gather dust again! Your life will change :)
*no boys or men so far (but you're welcome to join!)
*
How Home Ec Works:
We will post a new project tutorial on the private blog, Monday through Friday (sometimes Saturdays) but this is a take it at your own pace class, there is no pressure to do the projects in line with our posting schedule and the private Home Ec blog will
stay up for one full year
so that you can continue accessing the material, working at your own pace with your schedule in mind.
We write our tutorials with demonstrative photos and step by step written instructions; they are pretty and very easy to understand and follow (plus we are available to answer questions). Once registered, you can visit the class blog and work on your projects any time you want, as much as you want :)
If you've always wanted to learn how to use that sewing machine you found at a garage sale or could use a few tips on how to get your button holes to turn out like they should, you should join us for Home Ec, an online class designed to teach you how to enter the land of back stitching and squaring up with confidence. You'll get the skills you've always wanted and resources to become quite the innovative crafter/homemaker/business person/best Christmas present maker ever.
Visit HERE for full details and registration info.
A big preview of all the projects we'll be teaching...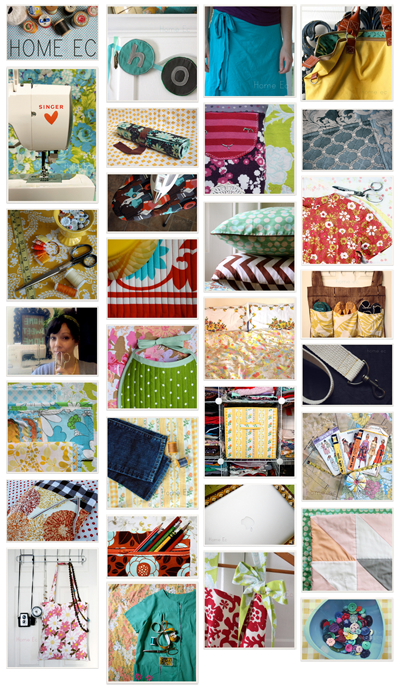 Class officially starts August 10th.
xoxo,
Leigh-Ann
PS.
Take a look at
Rachel's Interview
and
Courtney's Sewing Story
... these women are incred!! I'm looking forward to making Courtney's Ironing Board Cover & Wrap Skirt and Rachel's Piped Cushions & Canvas Bag!
PPS.
New post
below
.