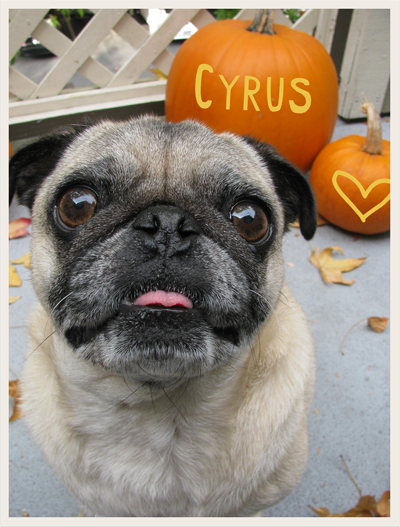 Dog:
Cyrus Bean
Mom:
Alycia
Location:
Sunnyvale, CA
Cyrus' best quality is his sense of humor. Half the time he doesn't even know he's being funny! He likes belly rubs, car rides and trips to the park. His best trick is 'High Five' and he'll do just about anything for a treat! He was the inspiration for the Curious Pug (Alycia's
Blog
and
Etsy
).
Share your cute phrase photo for Cyrus in the
FN Flickr group
too (OR, just type what you'd write in his thought bubble here in the comments. Mine would be: Cyrus
:
"Trick or Treat?" (in a grumbly old man voice).
To download Cyrus' bubble photo, right-click the image and select "save image as". Then print and add text manually or via photoshop.
Thanks so much Alycia! Cyrus is such a cutie-- I couldn't resist the pumpkin pictures! xoxo, LA