1.
I've started a Freckled Nest Monthly Newsletter!
Sign-up in the left sidebar
to receive a monthly email with an
exclusive
DIY Craft, Giveaway, Behind the Scenes Glimpses and Details of the Month Ahead!
2.
Thank you everyone for entering
the Giveaway
!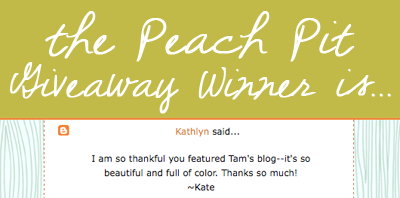 Congratulations Kate, you win two prints from
The Peach Pit
!! Please email FreckledNest@gmail.com and I'll connect you with Tams :)
3.
Join me this Friday (2pm cst)
at Ustream
for my live craft tv-show.
We will be making reusable display frames for our favorite tiny collections!
Pick up the supplies ahead of time and we'll craft together & chat worldwide!
Supplies Needed:
- picture frame (ideal size: 5x7 inches or less. thrifted frames work great for this project) - 1 piece of pretty fabric a bit bigger than your frame - cork tile or cork potholder (needs to be at least the size of your picture frame window) - acrylic paint in your favorite color - strong white glue (i like Aleene's Tacky glue) - spray glue (optional) - straight pins
or
corsage pins - ruler, x-acto knife, paint brush, scissors, pencil - hairdryer - your favorite tiny collection (i'm using buttons!)